Bollard
A bollard designed to maintain the distance of the building (Standoff Distance) "with the sabotage of Vehicle Bomb Threat. Car Bomb to reduce potential damage to the building to a minimum. The structure of the building. Or is the protection along the surrounding it (perimeter security).
This product ATG Access Bollard awarded the project installed security systems. The largest in Birmingham until the present.
The centre of Birmingham is currently undergoing vast regeneration in areas of the city. ATG Access was invited to tender for a number of sites in Birmingham by a variety of contractors. High security products were required on three major sites – Birmingham New Street Station, Birmingham Gateway and the Birmingham NEC Exhibition Centre.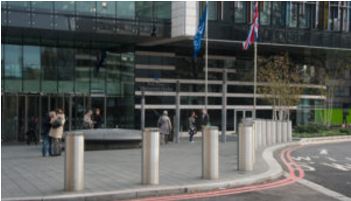 After entering the bid, ATG Access won all three jobs which each had very different product and security requirements.
The new Birmingham Gateway site will be an impressive urban shopping centre and restaurant hub located right next to Birmingham New Street Station. The brief ATG Access received was to secure the perimeter line of both sites. The ATG Access SP1000 shallow mount bollards have been chosen for this site due to the products strength and the minimal foundation depth and resources needed to install – just 112 mm.
The security products can also be sleeved with virtually any modern or traditional aesthetic finish clients require. For this chic, modern structure, the SP1000 was the perfect option both aesthetically and practically.
The third site, the Birmingham NEC Exhibition Centre required a "ring of steel" on the sites perimeter to protect against vehicle borne attacks or unwanted vehicular access during high profile events which are regularly held there.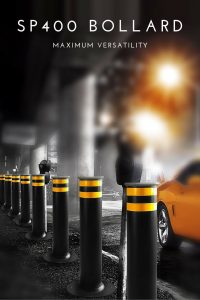 Due to the dynamic nature of this busy site, a mixed selection of bollard products were specified. SP400 static bollards were installed along the sites perimeter and complimentary SP400 'Independence' bollards were fitted to exhibition entrance doors. This enabled vehicles to gain access to building entrances if required during an exhibition or event but completed the "ring of steel" successfully when the site is not being utilised.
ATG Access beat their competitors during this bid due to having the best product design and a fully qualified installation team. One of the unusual aspects of the job was the extremely tight time constraints for installing the products and the request to cause minimal disruption whilst on site to ensure that the area remained fully operational throughout the project.
ATG Access provided full project management services to the NEC during the project until completion and finished the installation within the dedicated time frame and on schedule.
Source : https://www.atgaccess.com/atg-access-wins-birminghams-biggest-perimeter-security-project-to-date/