Bollard
This is an important device for any building where high safety is needed. Devices to reduce risk can be designed and installed such as High Security Bollard which is designed to set Standoff Distance between building and Vehicle Bomb Threat or Car Bomb in order to reduce damages to building, especially to building structures. It can be called a perimeter security.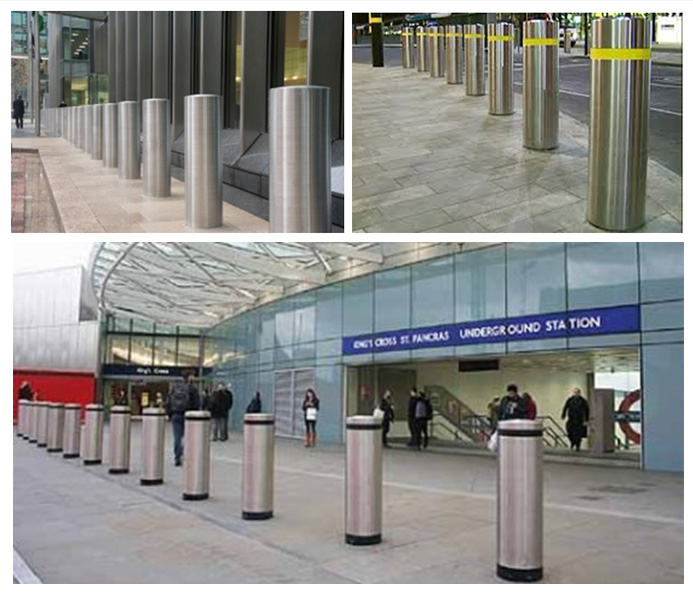 High Security
The bollard security standard must be followed. Bollard has many work functions. For example, it can be moved by hand, it can be fixed permanently (Fixed Bollard, Static Bollard), it can be driven by Pump Hydraulic (Pop Up Bollard) or it can be installed by shallow mount. The advantage of having many types of bollard to choose is that it can fit each type of area.
Bollard should be certified with Bollard test standard that widely accepted around the world namely PAS 68 or ASTM standards. The test is done by having a bollard hit by 7,500 kg truck at speed of 48, 64 and 80 km/h. When choosing the bollard model, type of car, weight and speed that may hit the building must be considered. When the bollard is crashed, it must stop the hit as specified.
With the strength of bollard, it can protect the building. The exterior of bollard is harmonious with the landscape. People and car can pass around as usual. The bollard has no effect on the scenery and is also easy for maintenance.
In addition to the normal version, there is a version called Shallow Mount. This is permanent bollard. It is easy to install because it drills the floor down to at least 15-20 cm and it is as strong as general model because it is also certified with PAS 68 or ASTM standard.
High Security bollard that has Crash Rated (High Impact Vehicle Barrier) is the best choice for important buildings such as data centers, banks, embassies, palaces, or ancient sites that are important and require high security.
---
Road Blocker
Road Blocker or Wedge Vehicle Barrier is a strong steel plate which can withstand an impact. It is used to install at entrance to important building of public or private organizations posed risk of attack by vehicle. It can lower risk of being attack by vehicle and is normally installed at the entrance or exit of important organizations.
Road Blocker must follow the security specification. Road Blocker has only automatic function. There are shallow mount, deep mount or movable Road Blocker. Standards for speed and weight of trucks hitting are different depending on the risk.
Road Blocker should be certified with Road Blocker test standard that widely accepted around the world namely PAS 68 or ASTM standards. The test is done by having a bollard hit by 7,500 kg truck at speed of 48, 64 and 80 km/h. When choosing the Road Blocker model, type of car, weight and speed that may hit the building must be considered. When the road blocker is hit, it must be function as nothing happens.
Rod Blocker's strength can protect the building by blocking the entrance and exit of truck. However, it may seem too bulky because it is a large metal plate, so some organizations choose bollard instead.
High Security Road Blocker that have Crash Rated is the best choice for important buildings such as data centers, banks, embassies, palaces, or ancient sites that are important in order to protect from the invasion by car.
---
Under Vehicle Inspection Scan (UVSS)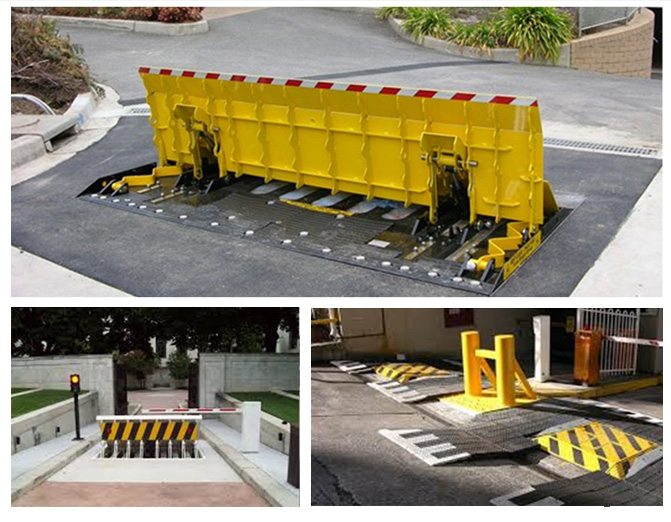 Under Vehicle Inspection Scan. This is an under-vehicle scan system for detecting foreign objects. It is installed at the entrance of the parking building. The main function of this system is to scan for foreign objects under the car that enters to park in a building or parking area. It can record images and process only for 3 seconds and indicate the location of foreign objects. After that, the alarm will be sent to the concerned person either by sound or by flash-ing light. In case the car parked has nothing wrong, the device will record the vehicle's plate number and register in the system to link to the Gate Barrier to open.
---

Turnstile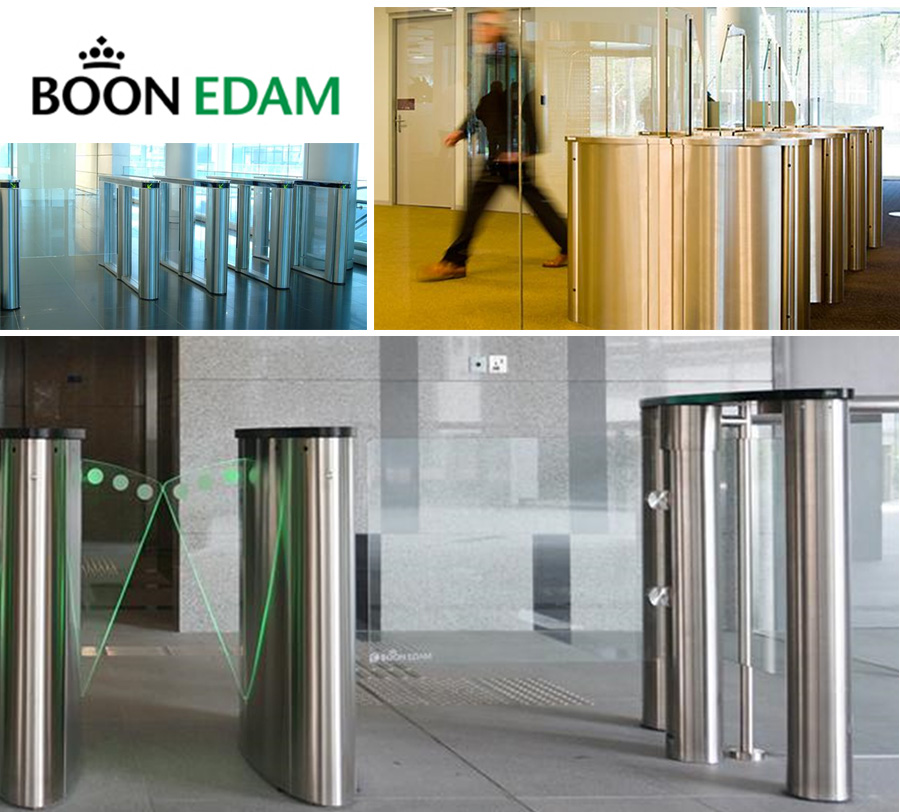 Turnstile or Pedestrian Gate is security system for restricting entrance into area or building. A person entering the area must be authorized. The system can be used with Card Reader system or Biometric Scan System.
Currently, buildings or organization offices generally installs Turnstile system for safety from unauthorized person into the building except for business or meeting purposes. The person must exchange ID card and be photographed before entering the building and the system can record each entry and exit of the building. There are different types of Turnstile namely Flap Barrier, Swing, Slide or Full Height.
Turnstile which allows one person to pass at a time is the mostly used. Type and function can be varied depending on building's structure, area and interior design.
---

Revolving door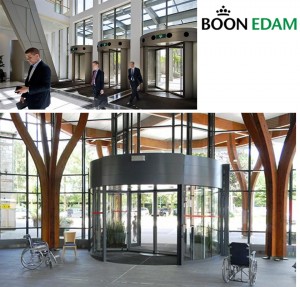 Revolving door The doors are designed as entrance and exit for people entering and leaving the building to achieve the smoothest and most efficient operation. Apart from the door, there is also a security system. The user can choose to use for security purposes. The access control can be installed to control the entrance and exit of the door. Card or a finger can be used to determine the access right of each person.
The revolving door consists of three compartments and four compartments, depending on the usage. Four compartment types is used to prevent people that followed from another compartment. However, each compartment is small. In addition, it can be used in two directions by setting door system. The three compartments type is used for one direction only, but each compartment has a larger area. Benefit of resolving door is that there is no need of patrolling which is suitable for high priority areas such as government buildings, hotels, banks, airports etc.

---
Mantrap Door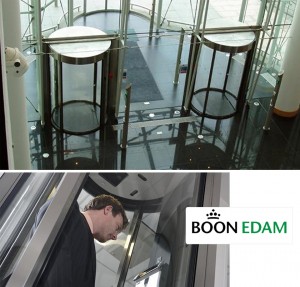 High Security Portal is a high-security gate used in important area for checking person entering into the area. Mantrap Door has a cylindrical shape with interlocking door. Only one person can enter at a time. Mantrap door technology has 4 checking processes which are
One Zone
Two Zone Contact Mat
Weight Sensor
Stereo Vision 3D camera
Level of security depends on the need of organization. High security comes with lower entrance speed. Biometric identify system can be installed additionally at the door.
---

Emergency Telephone System
Emergency telephone system is used in public place or accident prone area such as hospital,
park, school or street. This system will provide victims brief information and emergency help. With its unique design and the light from the equipment, it can prevent accident occur in risk area.

Apart from working as central Help Point, the device can also be designed with eye-catching shape and easy-to-use. The device also have lights to brighten the surrounding as the Panic Alarm System. It can be added with life support devices such as a AED for immediate rescue.
The connection of the current emergency telephone systema uses the network as information management and Emergency Two-way Communication System. The control center has a central server as the main control unit and an IP phone or telephone that supports network connectivity. It acts as a central receiving device from all emergency phones.
---
Access Control And CCTV Surveillance System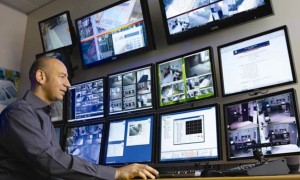 Basic security systems that all organizations have are access control and cctv surveillance systems.
SITEM choose the product of UTC Group (UTC Security solution), which is the LENEL and Interlogix products, which are now widely used in intelligent buildings around the world.
Lenel is the most widely used open platform product in the world. Because it is a secure system, effective, easy to use and integrated solution with security systems such as CCTV, Video Management System, Fire Alarm System, Intrusion Detection System and Key management system. Moreover, it can be operated and monitored via mobile network using up-to-date application.
---
KEY Management System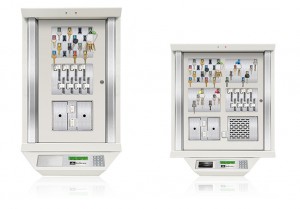 RFID Key Management System is an access control cabinet for keys using electronic system with the Key Control program. It can control and check the key user, use date and time and can notify when key is returned late, unauthorized use of key, the cabinet door is open including using the wrong key.
Each key is Smart Key and can only be unlocked by the authorized person. The opening and closing of the cabinet requires a fingerprint scanner, password or RFID card, and can be manually activated in case of emergency. In addition, the control program also can report the key name, key user, and key use time without connecting to PC. You can print reports remotely and it even alerts via E-mail.
---
Perimeter Intrusion Detection System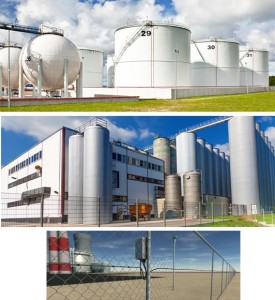 Perimeter Intrusion Detection System (PID), often referred to as intrusion prevention systems, is a system for detecting intrusion from outside parties. Perimeter intrusion detection systems will be installed around the area that needs to detect the intrusion suitable for private sector, government or state-owned enterprises that are large and closed area for only employees and authorized person. Working mechanism of the intrusion detection system is divided into three main categories. It is suitable for large and difficult-to-monitor areas such as factories, universities, warehouses and power or chemical plants.
Fence Mounted – is a cable sensor technology installed at the fence around the area. It includes sensors, signal Processor and management software and will detect invasion in case the intruder tries to cut the fence, climb the fence or pry the fence. The detection can be done by the sound occured from the fence compared with sound in normal condition or using seismic sensors. There are four types of fences that can be used in combination with PID namely Chain Link, Welded Mesh, Expanded Metal Mesh, And Metal Palisade
Underground – Coaxial cable technology is used to create an electromagnetic detection field to detect intruders or objects that cross the installed line. The intruders are unaware that they are detected by underground line. When the intrusion is detected, the system will alert the officer in the building to prepare for the action.
Microwave or Microwave Detectors – It is a microwave technology that detect intrusion. It consists of a microwave transmitter and receiver installed near the area where the intrusion is detected. If someone or object crosses the microwave, the system will alert and indicate the location of the intrusion.
The type of PID technology must be selected to match the function. For the design of perimeter security system, the use of PIDs is an important part of recognizing and realizing the intrusion. It is like the assistant of the security team of the organizations.
---
High security booth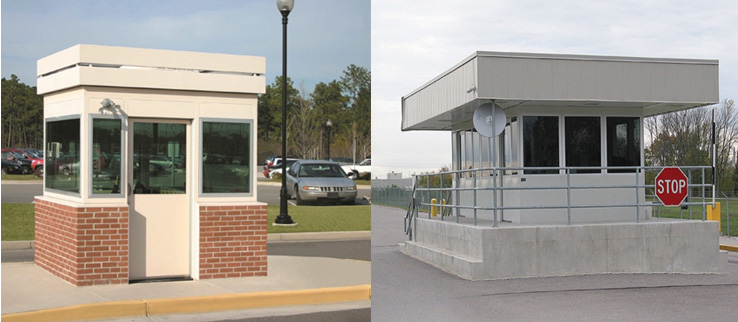 High security booth. The high security booth is designed to be located at the entrance of various areas so that the security guard can sit and perform the duty, which is the first unit to keep watching over the area. To design a booth, booths should be bulletproof using reference of EN or UL standards to protect lives and property and can be operated in the event of an emergency.
Whether it is an important area, such as an embassy, bank, power plant, oil plant or national agency or not, selected booth should be strong and resisted to various weapons to ensure the safety of people and property of the agency as much as possible.
ที่สุด
---
Explosion proof film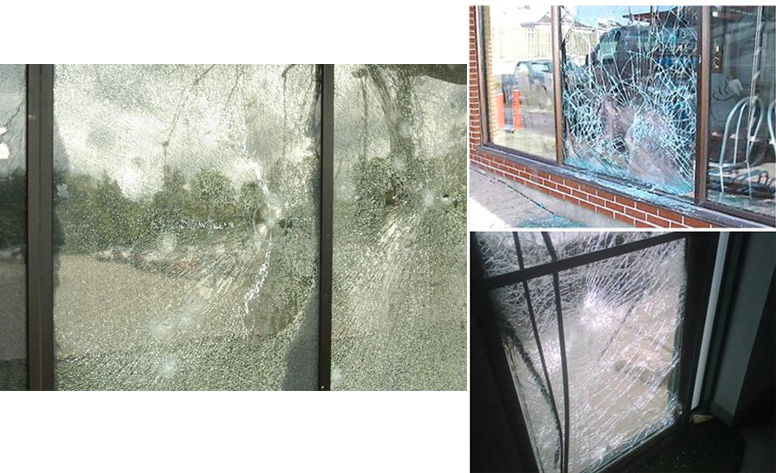 Explosion proof film Most of explosion proof films are made of polyester, which is attached on the glass to increase the toughness of the glass. So that in the event of an explosion, the glass will not break apart. The difference between an explosion proof film and a laminated glass is that the explosion proof film can be attached to the original glass that has already been installed or the existing glass in building that would like to increase its strength and durability without having to remove it. The film is often seen in building, bus, car and train abroad.
The surface of the film is smooth and easy to stick on the glass. It can be seen through like normal glass. The film is commonly attached on glass where there is a risk of explosion from the outside. The thickness will vary depending on the level of explosion resistance and the design requirements. In addition, it is also suitable for locations where the risk of invasion is high Toughness of the film will slow down the intrusion of third parties. Generally, UL or EN standards are used for design references, and it is divided into four levels, depending on the design requirements.
---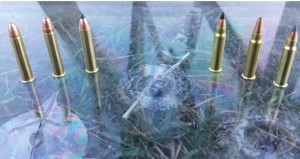 Bulletproof object
Bulletproof object A bulletproof object is an object designed to prevent firearm or weapon that shoot with high speed in projectile form. It can protect life in the event of a incident.
The design of door, window or automatic shutter must be aims for the protection people's lives. In area where there is high risk of firearm attack, government agencies, banks, military or police have opted to design a bulletproof building that can defend the invasion and firearm attack.
The standard used in reference for the use of bulletproof object should be from Europe and USA because it is well tested such as EN or UL. It consists of several levels, depending on the strength of each gun.
---
Physical Security Information Management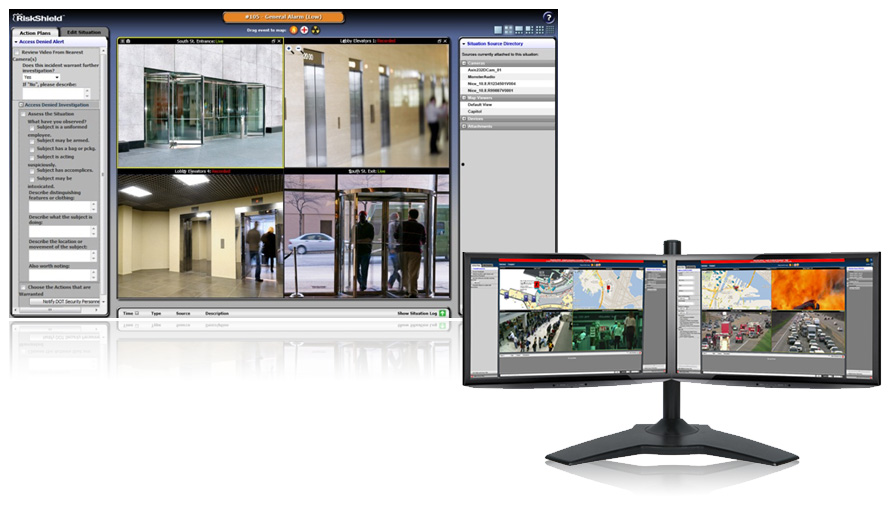 Physical Security Information Management is a software system that connects to all security devices and displays on the same screen. You can browse all connected devices.
For example, CCTV, Access Control System, Bollard system, door, sensor, analysis system, communication system, building surveillance system and so on. The users can monitor all events in the area and if something goes wrong or there is emergency situation, Physical Security Information Management will be able to alert and respond to events.
Physical Security Information Management has six key features.
Keep all data and factors from security devices.
Analyze data in the system using data and values, including historical alarms.
Determine the type of emergency incident. The types will be catagorised when the system is installed.
Event response with thorough support for all events.
Summarize and prepare the report for analysis.
Examine the information that has already occurred and review the response time of each event.