Constructing Data Center Building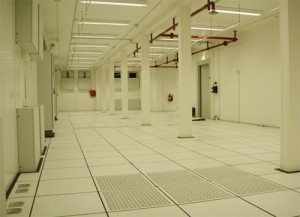 Constructing Data Center Building must comply Engineering regulation. A recommended floor load for Data Center should be approximately 1,500 – 2,000 kg./Sq.m. which is much higher when compared to other commercial building floor load. Since Data Center includes a lot of heavy equipment and critical computers, selecting good location can avoid unexpected natural disaster.
Data Center or Computer Center is like a home that is responsible for maintaining and supporting IT and information systems to run efficiently 24 hours a day. But how do we manage and maintain the computer center to reach the "highest performance"? That is an important question for data center administrators or IT staff.
Raised floor is defined as a double floor which is commonly used in Data Center. The objective of raised floor is protect main equipment from water on the ground and avoid electrical short circuit. Additionally, the raised floor is designed as an Air Plenum underground for Air Supply to the computer. Insulation and sealant shall be placed in all area to prevent water condensation and loss of energy including floor stand. In almost every case when wiring cable under raised floor, designer would use foam cement to help support higher floor load. For raised floor panel edge requires using PVC to prevent static electricity for large number of cable and UTP. Raised floor is commonly used in Data Center, Clean room, and Control Room or room with a lot of wiring under ground.
Gypsum Board is designed for heat protection, fire resistance, and humidity and weight less than cement up to 5 times which is suitable for Data Center. It is good for room expansion and minimize weigh and now adding Aluminum foil which can help reflecting heat radiation up to 95%. It helps saving energy within Data Center and good for wall and ceiling.
T-Bar ceiling is suitable and convenient for maintenance for any system over ceiling.
Smooth plastered ceiling is another type which is smooth in one level using aluminum strut hooked to the slab.
Acoustic is consisted of mineral fiber and reduces noise level coated with white color from manufacturer and finished with directional pattern, easy for installation, and no need for painting.
in some Data Center, it is built on location already finished such as commercial building or office area which is only able to support 300 kg./sq.m. and not
able to support Data Center Equipment such as computer rack, UPS, and Battery. In order to calculate floor load, designer must know dimension and footprint per sq.m. and estimate how much more of floor load required on that floor.
For large organization, business data, financial or customer data is priority of the organization or the core of business. Therefore, the owners of these kind of business give importance to data storage and try to protect from data loss.
The factory or building currently there are devices, systems or areas with high sensitivity to heat, or transfer area. Night and into the respiratory system, such as repair pipe factory with a substance or flammable. Factory employees work full area, area, IT Server, Data Center archive room or goods is very important building pipe system. Is in the area of narrow and harder to work, welding, and other various limitations.
The technique of Hot and Cold Axis in accordance with ASHRAE TC 9.9 air conditioning standard is to separate hot and cold air in the data center in order to reduces the mix of hot and cold air. So, the air conditioning system can work effectively and electricity consumption in data centers is reduced.