Cold Aisle Containment System in Data Center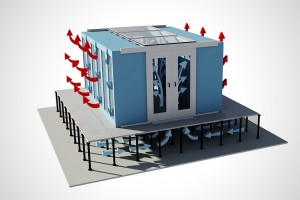 Today, many data center choose smaller server equipment with equal or higher performance. However, the equipment that manufacturers try to make it smaller, also has high weight and high-power consumption. When the smaller equipment has high power consumption, one thing that cannot be avoided is the higher heat load in each rack due to the fact that one rack can be fitted with more equipment. Therefore, effective cooling system is necessary for data center. The system that will improve the performance of the air conditioning system is Cold Aisle Containment system.
The technique of Hot and Cold Axis in accordance with ASHRAE TC 9.9 air conditioning standard is to separate hot and cold air in the data center in order to reduces the mix of hot and cold air. So, the air conditioning system can work effectively and electricity consumption in data centers is reduced.
The 100% separation of hot and cold air technique is commonly used in data center in oversea. Cold Aisle Containment is mostly installed to isolate and trap cold air from hot air. It is the most energy efficient system in the data center.
Features of Cold Aisle Containment
Can be resized – can be resized to fit existing infrastructure to maximize the use of the rack as the demand increases.
Can be configured. – There is separated heat and cooling system. This increases the reliability of the data center.
Efficient – Cold Aisle Containment allows the hot air to flow back to the CRAC directly and increase the efficiency by operating at higher temperature difference (ΔT).
Reliability – The Cold Aisle Containment system optimizes the cooling system available throughout the data center, utilizing the asset and reducing operating costs.
Flexible installation – It does not require you to modify the existing cabinet location and can also be installed on other manufacturers' cabinets.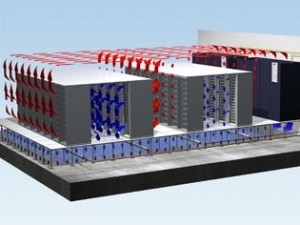 And another type is Hot containment, which is the wind trap in the cooling system. The aim is the to prevent a mixing between hot and cold air. However, the installation is quite limited depending on height of installation or the distance between the two racks, which can be affected by the heat from other racks.