Aluminium Structural Grid System for Data Centers

Tate Grid is the ideal solution for any application where large heavy items need to be suspended within a building. Replacing custom-built on-site structural support systems such as Unistrut, with Tate Grid can offer many advantages. A structural ceiling allows you to design and specify the support solution in advance and, best of all it's less expensive and faster to install.
Key Performance Characteristics
Faster and easier to install than other grid systems
Grid member center-to-center spacing can be selected to accomodate your specific project needs
Experienced data center product manufacturer and contracting teams
Sources : https://www.kingspan.com/us/en-us/product-groups/data-center-systems/structural-ceilings/tate-grid
Gypsum Board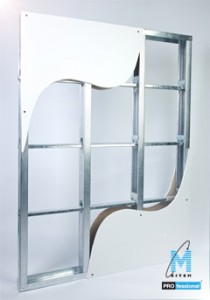 Today, gypsum board has been developed to have many special features which is suitable for Data Center such as heat resistance, fire resistance, humidity resistance and weight of 5 times less than painted masonry wall.
If you want to build a room addition, gypsum board may be used as interior wall decoration to reduce weight as well. Current production process has added aluminum foil, which has the property to reflect heat radiation up to 95% on the back of the gypsum board. As a result, the house using gypsum material can reduce the internal heat which is suitable for use as a wall, interior Ceiling in data center that needed to be cooled down. When Data Center temperature is lower, air conditioner works less resulted in lowering electricity bill.
Gypsum board is manufactured through up-to-date process with high quality and international standards. The main component is the core of gypsum board that is made of gypsum plaster covered with special kraft paper. So, it is very durable, non-flammable, heat insulated and has smooth surface suitable for ceiling and interior wall.
With the experience of being the first gypsum board manufacturer in Thailand for more than 40 years, Gyproc is truly a gypsum expert in the production process, the selection of good raw materials, advanced technology and quality control to achieve standards product for sale.
1. Smooth and beautiful surface
: Using the method of plastering between gypsum board that is not complicated and not sloppy, your wall will be smooth as one panel and your wall's surface will be smoother than the surface of the general plaster work.
2. No cracking
: No cracking. The physical characteristics of the gypsum board is highly elastic, so the skin does not crack. This is an advantage over the original plaster work. if the ceiling or wall is curved, gypsum board can be bent as required.
3. Insulation
: The gypsum plaster consists of molecules, which are water crystal, so gypsum board are non-flammable and heat resistant with lower thermal conductivity than other decorative materials such as masonry wall, glass, tile (Conductivity of 0.191 W / m), thus it can prevent heat from the outside.
4. Fire protection
: With the properties of non-flammable of gypsum board, it can be used as the ceiling in the Data Center or used to cover the building structure to prevent the danger of fire. Gypsum can be designed to protect fire up to 3 hours.
5. Soundproofing
: Ceiling system or wall using gypsum board is the main component and can be designed to prevent the sound from 35-60 dB. So, it is suitable for sound protection in theaters, or the area where required the prevention from the sound.
6. Easy to install and repair
: Gypsum board can be installed fast and easily. If you want to enhance the original wall, which is a masonry wall, the gypsum board can be attached on the original wall using Dri-Wall-Adhesive. If you want to repair gypsum wall, it can be repair at specific spot reducing cost and time.
7. Light weight
: It's light weight because the gypsum board weighs only 6.5-9.5 kg / sq.m. So, it is easy to move or store with no effect on building structure.
General characteristics and special features
The structure is made of galvanized steel using hot dip galvanizing process for more strength and painted with polyester for its beauty. T-Bar Gyproc Grid 32 comes with a special designed hanger and is easy to install. The standard lamp can be attached to the bar system suitable for residential and office buildings.
Galvanized steel T-bar Gyproc
1. Stronger than the aluminum bar at the same thickness.
2. The structure is hot dip galvanized with steel, which has better rust protection properties.
3. With Double Lock, the installation process is fast, easy, strong, smooth and do not need to use connecting unit. So, you can save money on materials.
4. The surface of the bar is white. Looks good with the ceiling board (In case of using a finished board or painted white on the gypsum board).
1. With a lighter material weight, it is not as strong as the galvanized steel bar of the same thickness.
2. Tend to rust quickly resulting in less weight support and causing danger to user and building.
3. Aluminum bar requires an additional connecting unit, so it requires more material. The connection between the main structure and the addition unit is a hook which is not strong and there is a gap between the structure when it is loaded with the board.
4. The surface of the bar is silver and is not look right with the ceiling board.
: ASTM C 635 Light Duty 7.4 kg. / m.
: Gyproc Light Duty steel bar 7.4 kg. / m.
1. Strong. Support high weight. The bar has 0.70 mm thickness (0.35 mm, 2-fold), according to TIS 449-2530, ensuring the strength of the bar.
2. The bar is designed to be able to support the dead load in accordance with the ASTM C 635 standard, which can support a weight of not less than 7.4 kg /m.
1. The shape and appearance of the bar is designed according to BS 8290 for easy and convenient installation.
2. Main T bar with Double Lock and Cross T bar connected together so it is strong, smooth and has rectangular angle.
Beautiful, durable and no rust.
1. The surface of the bar is coated with factory-made polyester with a thickness of up to 25 microns, for aesthetics and durability.
2.
Hot dip zinc coat galvanized steel bar has thickness up to 180 g / m2 to prevent rust according to TIS 50-2538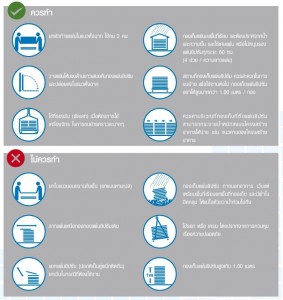 ---
Ceiling
T-Bar ceiling is suitable and convenient for maintenance for any system over ceiling.
Smooth plastered ceiling is another type which is smooth in one level using aluminum strut hooked to the slab.
Acoustic is consisted of mineral fiber and reduces noise level coated with white color from manufacturer and finished with directional pattern, easy for installation, and no need for painting.