High Sensitivity Smoke Detector System
High Sensitivity Smoke Detector (HSSD) is commonly used in Data Centers because HSSD is more sensitive than regular smoke detectors so the system can alert user before the incident will cause damages. It also helps the officer to handle the incident and fix it in time which is worth the investment.

TITANUS คือ ระบบตรวจจับควันไฟความไวสูง "เวลา" หากคุณต้องการมันมีความสำคัญอย่างมาก ในการที่เราจะทราบเหตุการณ์ล่วงหน้า หรือต้องการใช้ในการแก้ไขปัญหา ซึ่งระบบตรวจจับควันไฟความไวสูงนั้น สามารถทำให้เราทราบถึงอนาคตที่จะเกิดอัครีภัย เพียงแค่ต้นกำเนิดของการเกิดนั้น ระบบตรวจจับควันไฟความไวสูงนี่จะทำหน้าที่ตรวจสอบ และแจ้งเตือนผู้ปฏิบัติการ ให้เข้าไปตรวจสอบในพื้นที่ที่มีความเสียง การตรวจสอบหาสาเหตุและต้นต่อของการเกิดควันไฟหรือประกายไฟในช่วงต้น ทำให้ลดความเสียหายที่จะเกิดขึ้นตามมาได้
ระบบตรวจจัยบควันไฟความไวสูงของ WAGNER TITANUS เป็นเทคโนโลยีใหม่ โดยอาศัยระบบการเก็บตัวอย่างอากาศสำหรับการตรวจจับควัน ผ่านระบบท่อเก็บตัวอย่างอากาศควันระบบการตรวจสอบอย่างละเอียดใช้เวลาตัวอย่างอากาศจากความเสี่ยงและส่งไปยังห้องออปติคอล และลดความผิดพลาดในการตรวจจับได้ดี สามารถลองรับสภาพแวดล้อมได้หลากหลาย
                             MICRA25                                         MICRA100
                                 HSSD2                                           MODULASER
STRATOS are High Sensitivity Smoke Detectors using the forward Light Scattering Detection technology to lead and analyze sample particles in room air. The detector will draw a combined air sample into its inlet manifold from a pipe network, then filters and analyzes the sample in a laser detection chamber. If the particles are causing scattering to the ranger outside the system setpoint, the detector will create an alarm.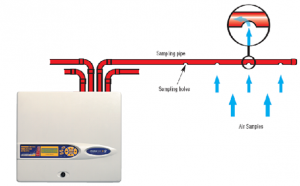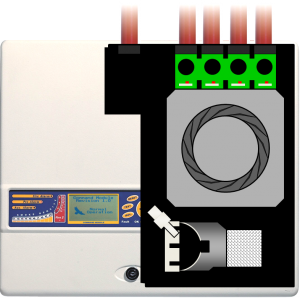 The use of smoke detectors depends on the working area. Whether the room needs to be detected separately or there are many areas for detection, the system can provide all solutions as needed.
STRATOS can be use in open spaces or danger and smoke-prone areas such as warehouse, museum, church or storage come. The intelligent software can learn and remember the environments around the device and configure itself to provide the highest sensitivity suitable for use in any conditions.