RIELLO NextEnergy : NXE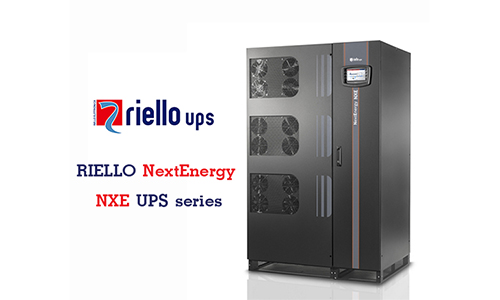 HIGHLIGHTS
High efficiency up to 97% in double conversion
kW = kVA (pf 1) up to 40°C
Transformerfree UPS
High overload capacity
Interactive Touch Screen
Full front access, back to back install
Next Energy is the latest UPS series designed for mission critical applications. The three phase UPS offers transformerfree double conversion technology VFI SS 111, with integrated the latest IGBT three-level design.
Next Energy is designed to meet the power requirements of tomorrow, offering the highest efficiency in the market and low running cost. Thanks to the Efficiency Control System (ECS) Next Energy also guarantees the highest levels of efficiency even at partial loads.
Its unity power factor and easy system upgrading make it the ideal solution for the business continuity of any IT application.
Outstanding system efficiency up to 97% in ON-Line double conversion mode, increasing to 99% in Eco Mode or Smart Active Mode.
Easy installation
NextEnergy guarantees low footprint and flexible installation:
• The small footprint of the cabinet and complete front access for all maintenance activities, ensures maximum space for installation and service.
• Next Energy includes top and bottom cable entry as standard, removing the need for large and costly top entry cabinets.
• Ventilation is from the front to the top so no additional rear clearance required.
Sources : https://www.riello-ups.com/products/1-ups/119-nextenergy-nxe