VRV or VRF Air Conditioning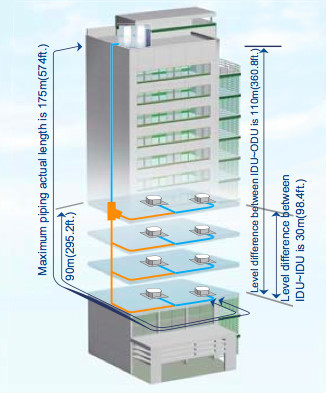 Thailand is a country located in a tropical climate. As a result, the average temperature throughout the year is not less than 30 degrees Celsius. So, creating an atmosphere in the building into a comfortable condition or COMFORT ZONE require the use of air conditioning in the building. From the study, most of the energy used in the building of more than 60% is use for air conditioning. So, air conditioning technology has been developed and innovations have been created to be use with the air conditioning system to increase the power efficiency of the system. One of the technologies that is gaining popularity is VRV or VRF air conditioning system.
               Variable Refrigerant Volume (VRV) or Variable Refrigerant Flow (VRF) systems are air conditioning systems capable of varying the amount of refrigerant required by the cooling load and the number of units within the installation area. This system is a popular air conditioning system used in large buildings. General components of the system are one outdoor unit, which can be installed with many indoor units at many floors of building. The indoor unit operates independently so It can control the temperature precisely.
Operation of VRV or VRF air conditioning system.
               The Outdoor / Condensing unit will change the amount of refrigerant flow in the system depending on the load of the Indoor / Fancoil unit. Outdoor unit is designed to have at least two compressors. The compressor is designed to switch its operation between each unit before sending the refrigerant along the liquid side to the indoor unit. The indoor unit has a PMV valve as a refrigerant dispenser according to the load. The compressor will work fully when the number of indoor units is enabled.
The benefits of installing a VRV or VRF conditioning system.
For building owner
               This system is a technology that directly controls the amount of refrigerant delivered by connect the control unit at the indoor unit. It can control temperature precisely and save up to 40% on electricity compared to other air conditioning systems.
For user
               The system can control temperature to be lower precisely. It also improves air quality by ventilating air and minimizing humidity, etc. So, users feel comfortable at all times.
แหล่งที่มา : http://www.2e-building.com/article.php?cat=knowledge&id=197
             http://www.airwatertechno.com/
             https://www.alibaba.com/product-detail/2016-leading-VRV-air-con-V5_60063582618.html