Asset Management Software
Asset Management is the system that replaces filling information in spreadsheets so the system can process and display the data in a better way. The management of assets will be easier and reduce the risk of losing assets.
AssetSpire is cloud based asset management software which makes you can access it anytime, anywhere. Software can categorize the type of buildings and type of assets for ease of sorting assets. Apart from that, it can show the floor plan of your place, showing your assets placed on it and It can also generate customized reports depending on your demand.
For Data Center usage, it has more features which can display more information of racks and servers. Software can display rack density in color including weight and power consumption. It can also display front and back of every rack which shows front and back of the servers in each rack. Apart from that, it supports thai language and thai numbers.
AssetSpire is developed by English Developer which is suitable for large office building, electrical substation, branch office of
Features:
Cloud Platform
Software runs on cloud service and accessible from everywhere via web browser. Apart from that one software includes all branch of organization.
Space Calculation
Software can calculate space automatically depending on assets which place on the the software.
Customize Report
Software can generate asset reports which can select to show any data. It can use the data to calculate by using formula function as same as excel so the data can be managed and analyse more efficiently.
Maintenance Task and Ticket
It has a ticket system for maintenance work. The software will keep the maintenance history and make a report.
Thai Language Support
Software supports Thai alphabet and number.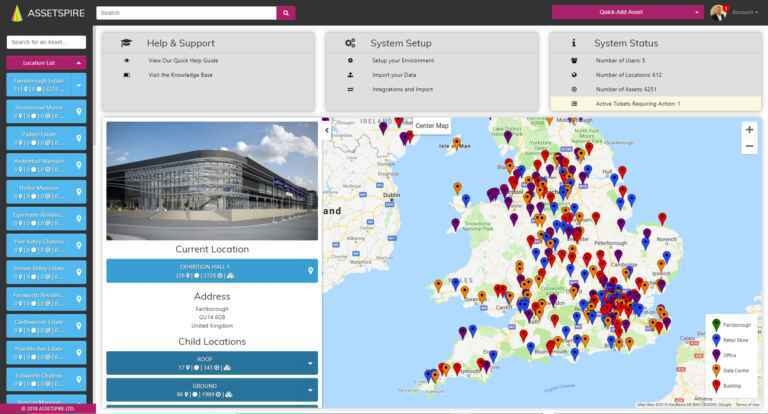 Data Center Features:
Capacity Management
Software can display a 2D layout of the data center which shows the position of rack, CRAC, UPS and etc. It can separate the capacity of the server in each rack by color which makes it easy for management . Apart from that it can show the weight and power of each racks.
Rack Diagram
Software can generate front and back pictures of racks that show the server installed in that rack so it makes the rack management easily.
Electrical Diagram
It can generate electrical diagrams from source to devices e.g. server. It makes the understanding in the relation of electrical and impact when there is an error. It makes management better.
Network Diagram
It can generate the network connection between devices for easing port management.
Monitoring
Connection with monitoring systems can be made for showing data in each device e.g. power, temperature and humidity. It makes the operation conveniently in one software.