Benefits of Underfloor Service Distribution
Underfloor Air Distribution
Underfloor air distribution (UFAD) reduces energy costs up to 20%, improves air quality, and improves employee comfortability. This comfort has been shown to enhance productivity, decrease absenteeism, and improve the building's value – not to mention, it significantly contributes to LEED certification.
Maximise energy efficiency and personal comfort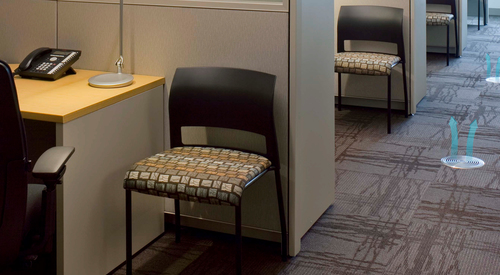 UFAD systems use a raised floor to create an air distribution plenum to improve indoor environmental quality and modularity of design. UFAD uses stratified airflow to improve the ventilation effectiveness and indoor air quality of the interior space by delivering air at a low velocity through the raised floor directly into the occupied zone; allowing the air to naturally rise to a ceiling return, pulling contaminants and CO2 away from occupants.
UFAD systems also improve flexibility and control. UFAD allows for easy diffuser reconfiguration in reaction to office occupancy and layout changes. Each diffuser can be equipped with personal comfort controls so that occupants can adjust the amount and direction of airflow in their space.
Aesthetically, UFAD eliminates the need for drop ceilings and reduces the amount of service distribution space allowing for larger windows with greater daylighting and access to views.
Underfloor air distribution offers complete flexibility while providing better indoor air quality, greater personal comfort, and reduced energy consumption.
Underfloor Power and Data Distribution
Enjoy the benefits of a low-cost and flexible power and data systems for the life of your building. With modular 'plug & play' power wiring and zone data cabling solutions, you can be assured your building will provide ultimate flexibility that can respond to organizational and technology changes quickly, easily, and cost effectively. A plug-and-play system allows you to add new equipment, increase open plan design, or make other moves, adds and changes very simply and quickly.
A Flexible & Sustainable Management System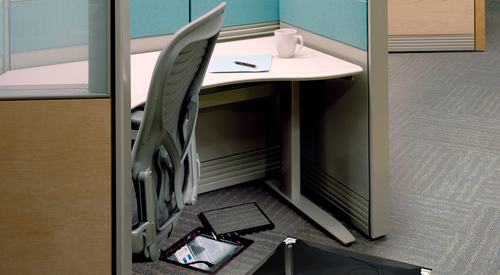 Traditional power and data distribution is rigid and wasteful. Embedding power and low-voltage data cables in ceiling, walls and other structures limits flexibility by making change expensive and disruptive. Labor, material costs and down-time prohibit reconfiguring your space as your business needs change.

 

Reduced impact on base building

Access floors eliminate the need to embed power and data within concealed rigid structures, thereby allowing tenants the freedom to access services quickly and easily. Limitless access to these services provides the ultimate tenant flexibility. An architecture firm using open ceilings and an open plan layout on one floor can as easily be accommodated as a law firm with private office design on the next floor. 
Complete accessibility and unlimited capacity
An access floor provides you with access to your service pathway at any location on the floor plate, with finished floor heights that accommodate any capacity needs.
Access floor and underfloor modular plug and play services allow for quick and easy equipment and technology changes at low cost with minimal disruption.
Sources : https://www.tateinc.com/en-au/learning-center/benefits-of-underfloor-service-distribution-en