Principles of Information Technology Center Design
The design of an information technology center must now be considered for the efficiency and usage suitability and must be complied with the criteria of data center standards including system design, equipment used, proper installation and maintenance. Those who are responsible for the design or improvement of data center should learn and keep up with up-to-date system design so that they can implement with their data center, comply with international standards and meet the organization or customer need.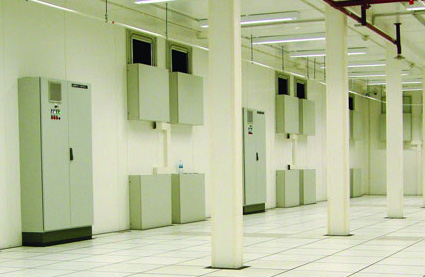 Design principles
Since data center must be available for service 24 hours a day and 7 days a week, it is necessary to have facilities that support the main equipment to meet the standards that are being used in the design such as UPTIME, Bicsi, ANSI / TIA 942, ASHRAE, NFPA 13, NFPA 750, NFPA2001, Thai electrical installation standard and Engineering Institute of Thailand Under H.M. The King's Patronage's data center standard. In order to achieve data center purpose, there are important elements to be considered in designing as follows.
1. Location for installation of data center
All-round safety must be taken into account when choosing the location for data center whether it is for natural disaster, flood, blizzard, volcano eruption including the threat from riots, or human action such as bombing or various forms of crime.
2. Electrical system
Electrical systems in data center are very necessary. The main power supply must be sufficiently sized to support proper operation. Nowadays, it is designed as Dual Source for devices. There is also uninterruptible power supply (UPS), either Dynamic or Static UPS, as well as a generator system to be used in case of power outages.
3. Network system in data center
Connection within data center requires many connection cables and many types of them such as UTP cable, Coaxial cable and Fiber Optic cable. Quantity of cable and equipment must be calculated based on main standards such as ANSI / TIA942, which requires proper positioning of room, equipment and the cable distribution area.
4. Humidity controlled air conditioning system
Data center is designed to be installed with precision air conditioning system. The heat generated by the operation of computer equipment is the heat load which called sensible heat. It is used to determine the cooling capacity of the air conditioner which must be controlled at 22 +/- 2 degree Celsius, and to design the distribution of air, such as the design to distribute the air under the floor.
5. Security system
The data center should have a security system to prevent people who are not allowed to access from causing any damages to data center. The physical security system consists of an automatic access control system, CCTV system, water leak detection system under the floor, high sensitivity smoke detector which work together effectively.
6. Automatic fire suppression system
Automatic fire suppression systems for data center that are designed to be used in data canter are Water mist system which the sprinkler dispenses small water droplets with a size of less than 100 microns, or clean agent fire suppression system such as IG-100, IG-55, Novec1230 that can be used in data centers based on NFPA2001 standard.