Face Recognition Access Control System – SMART PASS

Smart Pass is face recognition access control with AI technology which helps to recognize the face and processing with less than 1 second. The software can connect to human and resource software which makes Smart Pass complete for every organization.
Artificial intelligence Technology – Smart Pass uses AI technology to recognize the face with 20 ms of speed, 99.8% of accuracy and prevent cheating with photo and video.
Two Factor Authentication – compatible with cards and pin code.
Line Notification – The notification can be sent to Line Application.
Cloud Service – The platform can be accessed via web browser everywhere and every time which has a dashboard, report generation and other features.
Guard Tour – The software can be set to make sure that security officers check in every hour.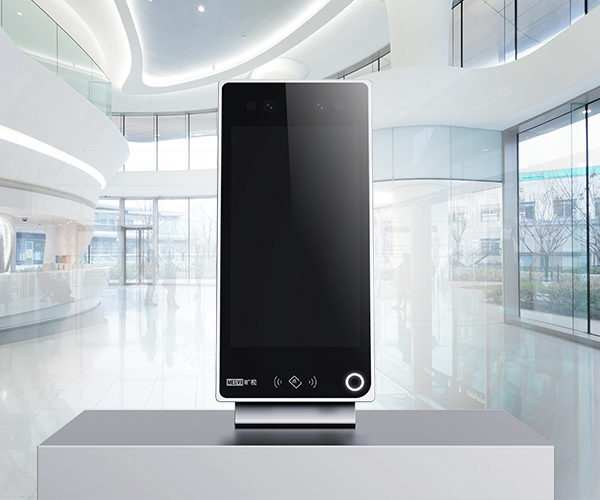 Features 
Hardware :
99.8% of accuracy and 200ms of speed.
50,000 event logs.
Support two factor authentication with cards or pin code.
Liveness Detection prevents cheating with photos and video.
Able to operate in low light condition ( 0 Lux).
2MP camera which can detect at 0.3-2 meters range.

5 inches of LCD display USB type C x1, Wiegand input x1, Wiegand output x1, RS485 x1 

The device supports at least an Input Interface Alarm input x2, Door Contact input x1, Alarm output x1
Support TCP/IP.
API integration.
Software :
Access via browser.
Import data with JPG and Text File.
Able to work with a PC to display access reports with the details e.g. faces, employee number, date, time and position of doors.
Support the input of name, employee ID, location, telephone number, e-mail address as follows 1 and batch processing.
Import user via web browser.
Able to set time to start work, time to finish work, can set time for calculating about being late or returning before work time.
Able to do permission management e.g. user groups, access control groups and etc.
Connect to the time attendance system.
Able to do report generation.
Alarm via Line Application.
Guard tour features.
Hardware Specification
Display size

5 inch or 7 inch

Resolution

2 MP

Accuracy

99.8%

Speed

200 ms

Detection Range

0.3-2 m

Lumination Condition

0 Lux

Maximum Events

50,000 เหตุการณ์

Connection Ports

USB type C , Wiegand input , Wiegand output , RS485 , Digital input, Door Contact input , Alarm output, Ethernet
0 0 0
Software Features
Platform
Access via web browser
Number of users
Supports upto 50,000 users by importing via cloud application service using jpg and excel file .
Data Display
Access control reports with faces, employee number, date, time, status and position of access control.
Data Importing
Name, employee number, position, telephone number, email address and working hours.
Grouping
Can be divided into input and output permissions.
Connection
Files can be exported to time attendance software.
Report
All Person Information, List Information, Individual Information, Company or Department Specific Information, Period Specific Information, Door Position Specific Information, Alarm Report, etc.
0 0 0