Power Distribution Unit : PDU for Server Room

PDU (Power Distribution Unit) consists of an important device that supplies power, Computer Level Grounding and Monitoring Systems which efficiently manage electricity consumption.
With experience and expertise in assembling low voltage switchgear cabinets in the MNS Series, ABB has developed the MNS iPDU, a compact power supply cabinet designed to supply sensitive loads such as a computer room and Data Center.
Benefits of MNS iPDU
– High quality ABB equipment.
– Reliable intelligent monitoring system.
– Smissline busbar system.
– Isolation transformer can be installed.
The main internal feature of MNS iPDU is that it can be designed in many sizes to meet your data center needs. The structures of the cabinet are net or glass double door so that we can see the devices inside. The back cover and side cover is detachable, so it is easy for maintenance. The interior is clearly divided making the wiring easier to arrange. The part is coated with Epoxy using Electro-Statically process with the thickness of more than 70 μm so it is beautiful and durable.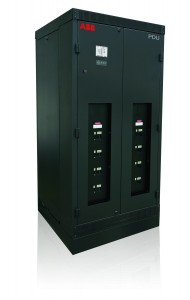 SmissLine Power Distribution Bus Bar System
ABB is the first to design a Pluggable Socket System that can be easily removed and disassembled to help ensure continuity of power supply and high security. It also saves cost and time used for installation and maintenance. SmissLine can be equipped with a current monitoring system, which can be easily installed with a clip-on system input of breaker. Then, it gathers the signals into the main control unit (CMS-600) so that it can transmit power consumption data to the power control system by fieldbus, such as Modbus RTU.