PYPLOK Fitting
Installing or repairing piping system without welding or heat.
Nowadays, factory or building has systems, devices or areas that are highly sensitive to heat or area where is difficult to access for repairing a pipe system such as factory with combustible substance or material, factory packed with workers, IT server area, data center, room storing document or important goods, building where piping system is in confined and difficult areas for welding or area with many other restrictions.
The solution of these problems is the Cold Work Piping System or the pipe installation and repair without welding or heat. Now, there is not many Cold Work Piping system and there is less system that are tested and certified by world recognized institutions.
We recommend the solution that has been tested and certified. It has been used to install in a wide range of industries with high standards of pipe work. We are confident that this option is one of the best choices for those looking for installation and repair of the piping system without welding and heat.
Cutting and separating pipes
Pipe repair requires seperating the liquid within pipeline before cutting or reparing piping system. The system that has been designed as a separate system can be closed using valve located at the begin of pipe branch before the repair. If the system does not have valves, liquid seperating must be done by shutting down the valve at the main pipe or shutting off the entire liquid system, which can affect the business, production or other applications.
The solution for these liquid separation without valves can be done by hardening the liquid to fill the pipe and block the flow. The equipment used for the pipe freezing is all likely the same, by covering the pipes in the required parts, and then injecting liquid nitrogen or liquid carbon dioxide into the covered pipes to harden the liquid in the pipe as shown in an example picture.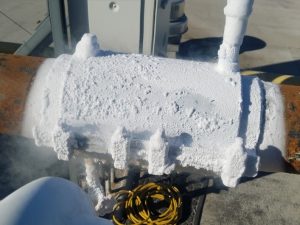 To avoid the use of flames for cutting metal pipes, Cold Cut technologies in many industries are available in a variety of types. if considering the ease of portability tools, acceptable cutting performance, cleanliness in the work area after cutting and cost of cutting which is the most important, we choose Cold Cut system which is the most appropriate option in terms of price, performance and usability in every location.
Installation and assembly of piping systems
In the past, no matter where the pipe system is located, installation and assembly of the pipe requires welding that generates heat, spark and dirt. Nowadays, technology has made the welding process no longer necessary. The benefits of the weldless piping technology are
No heat and flame in important areas.

No electrical wave generated from high current in welding or glare from occured sparks, which can damage sensitive or fragile electronic devices.
No need for workers with welding skills. Even highly experienced welder may have an error in welding.

No welding test is required. Some of the test requires X-ray or chemical.

Works can be done everywhere that is humanly accessible. Unlike the welding that requires to connects wires and gas pipe with an equipment. If there is no power source nearby, the equipment preparation can turn into a big task.

Use less people. Only one person can finish it.

Faster than welding.

New pipe can be prepared directly from the factory. As a result, the quality and cleanliness of the pipes can be controlled.

Save higher cost than welding.
Only one equipment can be used for all types of pipes. Unlike welding, tools and materials vary according to the type of pipe.

The chances of human error are so small. Because the installation tools are designed to be easy to use and reduce the chance of errors.
PYPLOK technology that we choose is a patent product from Canada. It is certified by world class standards such as ASME, ANSI, DNV, ABS, BV, CCS, NK, and LLYOD.
Many leading companies in the world have chosen PYPLOK to replace the welding of pipe system and have a history of using PYPLOK for nearly 20 years, ensuring that PYPLOK has long lifetime equal to or longer than the pipe itself.
PYPLOK Fitting is designed to be worn with the pipe at the ends of the fitting, each end with 2 O-rings. The O-Ring acts as a sealant in the pipe. Once worn on the pipe as specified, PYPLOK's exclusive Fitting Tool is designed to fit fittings and O-Ring with the pipe and it will become a permanent joint ready to use.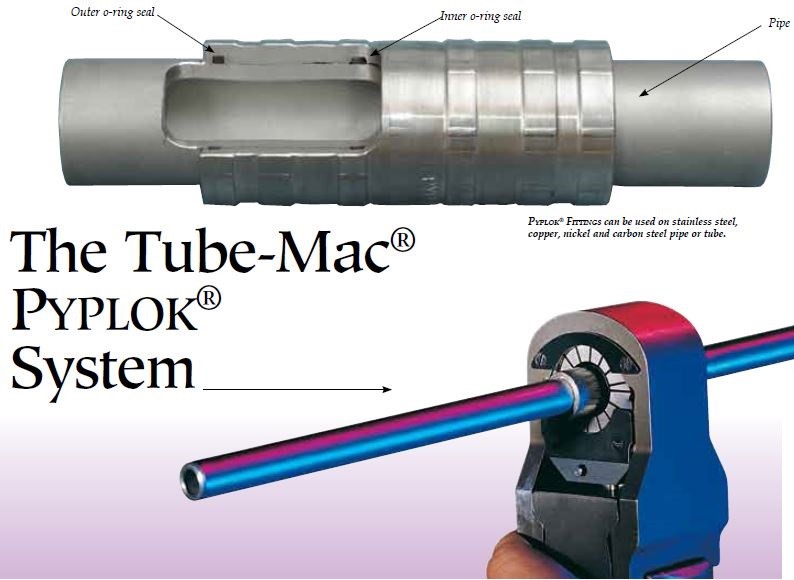 PYPLOK has variety of types including straight joints, bent joints, three-way joints, reducer, flanges, screw or hydraulic joint.