Turnstile
0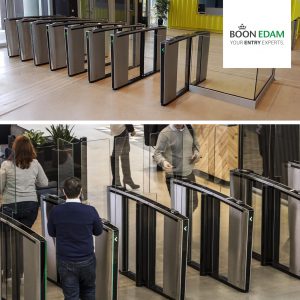 Turnstile or Pedestrian Gate is security system for restricting entrance into area or building. A person entering the area must be authorized. The system can be used with Card Reader system or Biometric Scan System.
Currently, buildings or organization offices generally installs Turnstile system for safety from unauthorized person into the building except for business or meeting purposes. The person must exchange ID card and be photographed before entering the building and the system can record each entry and exit of the building. There are different types of Turnstile namely Flap Barrier, Swing, Slide or Full Height.
Turnstile which allows one person to pass at a time is the mostly used. Type and function can be varied depending on building's structure, area and interior design.