VRV / VRF Air Conditioning System
VRV (Variable Refrigerant Volume) or Variable Refrigerant Flow (VRF) Systems.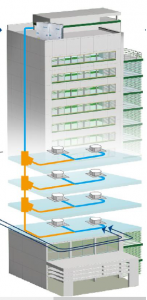 Are air conditioning systems that have the ability to change the amount of refrigerant depending on load and air conditioning. While there are many air conditionings running, the control unit will order to release a large amount of refrigerant into the system. When less air conditionings are working, the system will control enough amount of refrigerant for running the air conditioning. This system is suitable for installation in buildings which the area of CONDENSOR UNIT is limited because condenser unit can be connected to several fan coil units in the building. It may be located in the same or another floor. The operation of the fan coil unit is independent, so it can control the temperature accurately.
At present, Thailand has installed air conditioners at almost every building. Most of the power usage is from the air conditioning system. So, innovative air conditioning system has developed and invented. The most popular air conditionings installed in the building are VRV or VRF Air Conditioning System.
There are 4 types of control devices which are.
Remote and wired Individual Control
Indoor unit control and outdoor unit monitor for Centralized Control
BMS Gateway Controller has 4 types of data transmission device namely BACNET, LONWORKS, MODBUS and KNX
Intelligent Control is the smart system operating through Network
Benefits of system installation
This system is a technology that directly controls the amount of refrigerant delivered by install the refrigerant controller at the indoor unit. So, it can precisely control temperature and it can save up to 40% of electricity compared to other air conditioning systems. It also improves air quality by minimizing air humidity and other processes as well helping users to be in comfortable conditions at all times.
Design
First, choose the indoor unit size to suit each room. Then, select the outdoor unit size from the refrigeration level. Then, design the refrigerant pipeline and use the program to calculate the refrigerant pipe size as shown.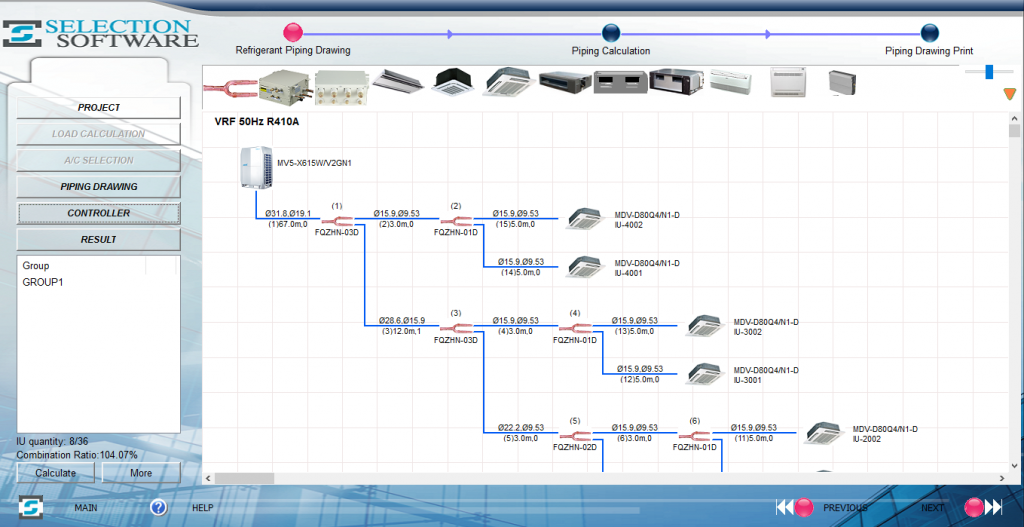 How to calculate BTU
BTU= Room area (WidthxLength) x Factor
Factor
700-800 for a bedroom or room with less heat.
800-900 for living room or rooms with moderate heat.
900-1000 for office, exercise room or room with high heat or high ceiling.
1000-1200 for shop or large office.
If the ceiling is higher than 2.5 meters, or there are many people or computers, add 5% of BTU.
Source : http://www.midea.com/global/